Chloroplast phylogeny of the derived Mimosoids
Understanding Mulga | Solidago Gall Genomics | acaciaID Interactive Key | Curriculum Vitae
My research focuses on molecular phylogenetics in the plant genus Acacia s.l. and allied genera of the legume subfamily Mimosoideae. Acacia is undergoing a transformation due to the results of molecular datasets and the recent retypification. New combinations have been made for the American species of Vachellia and Senegalia while no similar changes have occurred in the African and Asian species. For more nomenclatural information please consult the factsheets within acaciaID or World Wide Wattle.
| | |
| --- | --- |
| Vassal (1972) Pedly (1978) | Post-retypification |
| Acacia subg. Acacia | Vachellia |
| Acacia subg. Aculeiferum, sens. str. | Senegalia |
| Acacia subg. Aculeiferum. sect. Filicineae | Acaciella |
| Acacia subg. Aculeiferum "coulteri group" | Mariosousa |
| Acacia subg. Phyllodineae (Racosperma) | Acacia |
| Acacia subg. Aculeiferum "skleroxyla group" | none |
This phylogenetic work is progressing in three areas: 1) Ingeae/Acacieae generic relationships with collaborators Dave Seigler, Gillian Brown and Dan Murphy. 2) The American species of Vachellia with collaborator Dave Seigler and 3) The Australian Acacia species with Dan Murphy and Gillian Brown. Recent publications in Acacia systematics can be found here.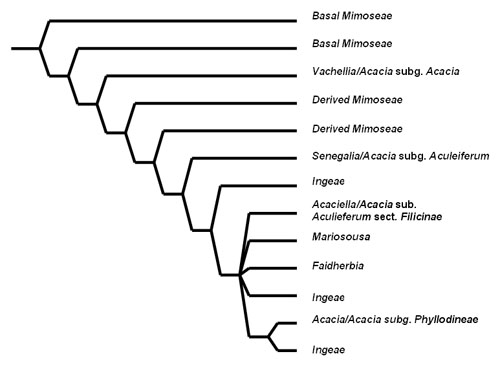 A summary of our current understanding of the phylogenetic relationships within Acacia.