The study of Australian fungi - Before the twentieth century
The plates from Cooke's
Handbook of Australian fungi
Mordecai Cubitt Cooke's Handbook was the first monograph about Australian fungi and was published in London in 1892. In his preface [PDF 1,049 KB, text] Cooke made some comments as to how the book arose, the information on which it was based and some of the work's limitations. The book is over 450 pages long and includes 408 pages of descriptive text, containing short descriptions of numerous species. Here is an example: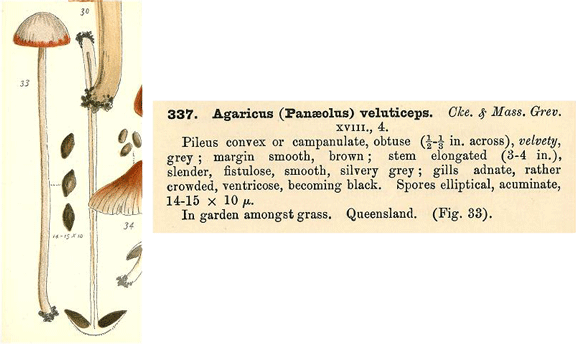 On the left is part of Plate 5, showing figure 33, and on the right is Cooke's description of Agarics (Panaeolus) veluticeps, a small-capped, slender-stemmed mushroom. Figure 33 is composed of several illustrations: one upright mushroom, one upside down mushroom (cut in half to show the gills) and between the two mushrooms there are three dark spores.
The Handbook dealt with the macrofungi, microfungi and slime moulds (or myxomycetes). The slime moulds are no longer classified with the fungi and they (along with the microfungi) are not included in this website.
The book included 36 plates which presented 377 separate figures. Below are links to the plates and for each plate I've indicated which figures appear on that plate. You'll find the Handbook's explanations of the figures here:[PDF 5,630 KB]
In each plate the figures are enclosed within a black rectangle, about 188 millimetres tall and 115 millimetres wide.
Colour plates
Plate 1 : figs 1 - 6

Plate 2 : figs 7 - 12

Plate 3 : figs 13 - 20

Plate 4 : figs 21 - 26

Plate 5 : figs 27 - 34

Plate 6 : figs 35 - 44

Plate 7 : figs 45 - 49 and 54 - 56

Plate 8 : figs 50, 51, 52, 57, 58

Plate 9 : figs 53, 59 - 66, 68

Plate 10 : figs 67, 69 - 75

You'll notice that plate 11 and plate 12 each have a figure numbered 86. The "Explanation of figures" contains 86 and 86 bis, the latter referring to figure 86 in plate 11.

Plate 11 : figs 76 - 86 (= 86 bis)

Plate 12 : figs 86 - 96

Plate 13 : figs 97 - 100, 126

Plate 14 : figs 101 - 104, 107, 128, 129

Plate 15 : figs 105, 108, 110, 111, 112, 113, 115, 117, 118, 130

Plate 16 : figs 106, 119, 120, 121, 123, 125, 127

Plate 17 : figs 109, 114, 116, 122, 124

Plate 18 : figs 131 - 137

Plate 19 : figs 138 - 152

Plate 20 : figs 153 - 175
The following plates are not coloured
Plate 21 : figs 176 - 183

Plate 22 : figs 184 - 196

Plate 23 : figs 197 - 208, 212, 213

Plate 24 : figs 209, 210, 211, 214 - 227

Plate 25 : figs 228 - 242

Plate 26 : figs 243 - 249

Plate 27 : figs 250 - 254

Plate 28 : figs 255 - 271

Plate 29 : figs 272 - 295

Plate 30 : figs 296 - 317

Plate 31 : figs 318 - 329

Plate 32 : figs 330 - 343

Plate 33 : figs 344 - 350

Plate 34 : figs 351 - 355

Plate 35 : figs 356 - 362

Plate 36 : figs 363 - 377