Australian National Botanic Gardens - ACT Grass Project
Chemical pre-treatment of seed to increase synchronicity, rate and speed of germination
Recent research has shown that smoke can be an effective breaker of dormancy and in some preliminary experiments the number of seeds germinating and the speed of germination was increased by pre-treatment with smoke dissolved in water. The smoke treatment used in the experiments with younger seed was Kirstenbosch Smoke Plus seed primer, prepared according to the manufacturers directions. Later experiments using older seed were treated with smoked water.
With fresh seed smoke treatment increased the speed and percentage germination. Older seed showed no response. Smoke appears to overcome dormancy effects, and this is independent of the presence of the seed coat (Figs. 24a-b).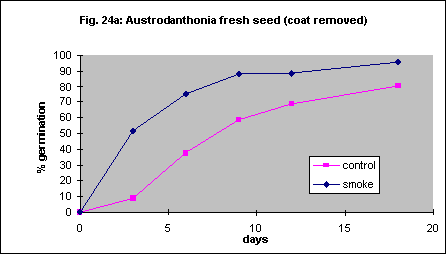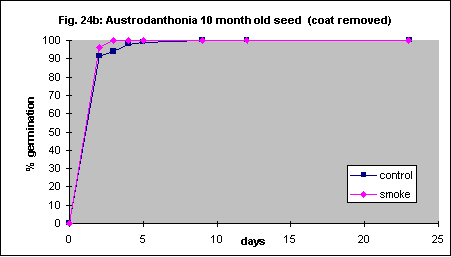 Smoke increases the speed of germination in fresh seed, but not the final percentage (Fig. 25a). There is no significant effect with older seed (Fig.25b). For these germination tests the seed was intact for the fresh seed, and the awns were cut off for the 10 month old seed.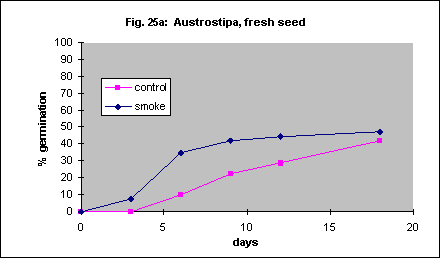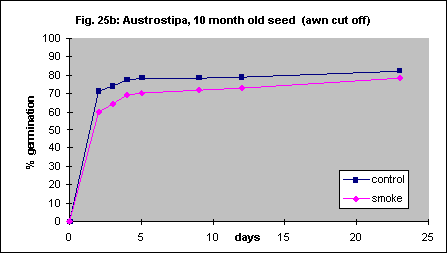 Fresh seed has not been tested. Two-month-old and 7 month old seed germinates well without smoke.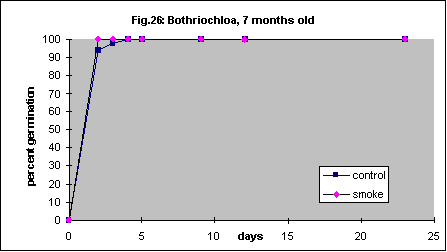 Fresh seed has not been tested with smoke as untreated seed germinates well. There is no effect on 10 month old seed (Fig. 27).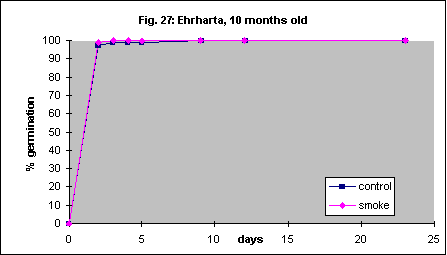 Fresh seed germinates more rapidly and with more success if smoke is used. As the seed ripens the effect diminishes and after 9 months storage at room temperature the effect is not significant (Figs.28a-c).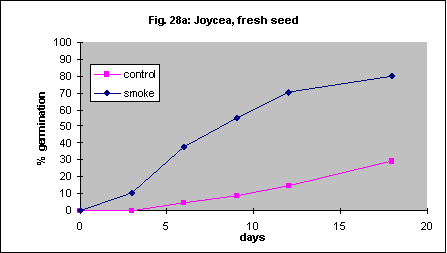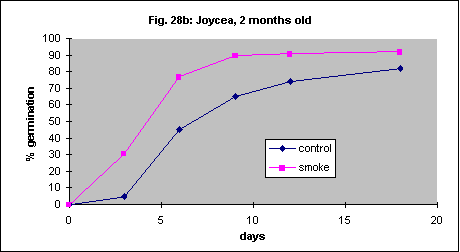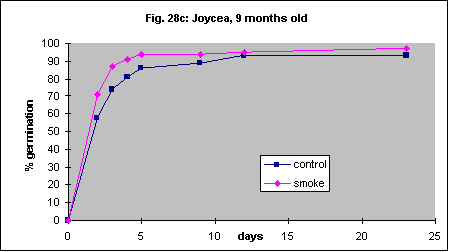 Fresh seed has not been tested. There is no effect on older seed (Fig. 29).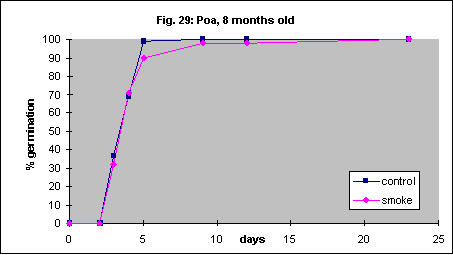 The effects of smoke are not significant either with fresh seed or older seed (Figs. 30a-b).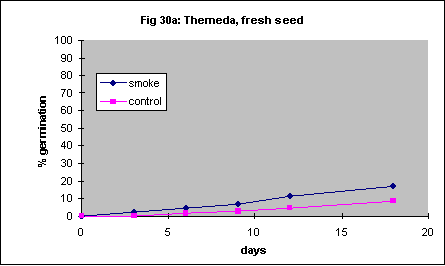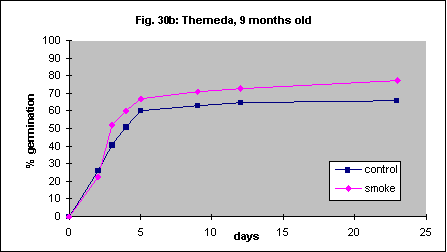 The effect of various other chemicals suggested by a review of available literature (especially the International Rules for Seed Testing, 1996) was investigated using 30 month old Themeda triandra seed that had been stored at 22 ° C. In all these tests PPM was used to control pathogens (with the exception of the control in the test on the influence of PPM on germination)
Cresswell and Nelson (1971) demonstrated the efficacy of boron in breaking dormancy of Themeda triandra. An aqueous solution of 0.05 parts per million boric acid used for imbibition and incubation did not significantly increase germination (Fig. 31).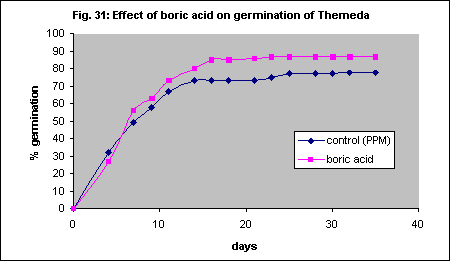 Trichopel is not strictly a chemical substance but a pelletised form of several strains of the beneficial fungus Trichoderma harzianum. It antagonises and inhibits the growth of fungal pathogens, including endogenous fungi. Six granules per dish were cultured on the incubation solution for 4 days prior to use. This treatment resulted in more seeds germinating as well as more rapid germination (Fig. 32).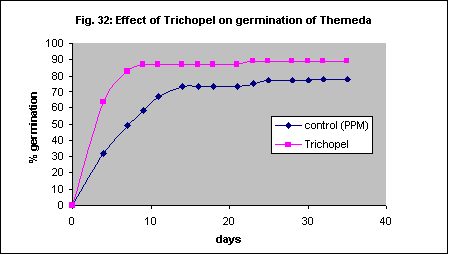 In the trials of compounds to control contamination PPM was shown to have beneficial germination effect on Poa labillardieri. However, when applied to Themeda triandra as a 15 mL.L-1 solution for imbibition and a 0.5 mL.L-1 during incubation there was no additional germination response (Fig. 33).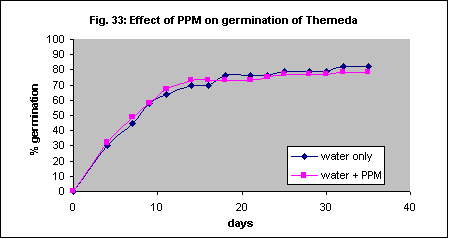 Gibberellic acid (GA3) has also been shown to break dormancy in many species and although it is not considered practicable for large-scale use was included in these trials for interest. A 5 mL.L-1 solution of GA3 increased germination by about 20% (Fig. 34).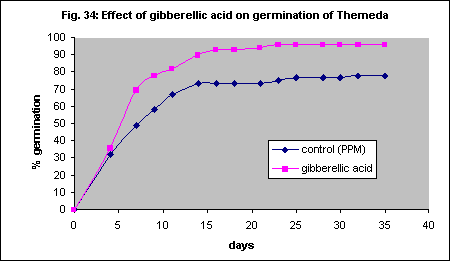 The International Seed Testing Association (1996) recommends 0.2% potassium nitrate (KNO3) as a chemical that may break physiological dormancy in some species, including grasses (eg. Pons, 1989). Potassium nitrate is believed to penetrate the embryo and stimulate metabolic activity (Bradbeer, 1988). There was no significant effect in our test (Fig. 35)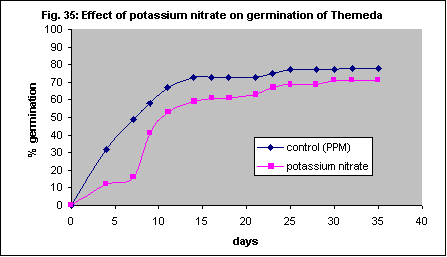 Although germinating seeds have their own nutrient reserves it is possible that germination could be enhanced by the presence of additional nutrients. A positive benefit from additional nutrients would indicate the use of fertiliser in revegetation projects. To test this in vitro seeds were germinated in a standard tissue culture medium (half strength Murashige and Skoog) containing a complete nutrient mix. Germination was improved by ca.20% (Fig. 36). In a field situation the addition of fertiliser would presumably aid establishment as well as germination but before recommending this practice further trials need to be done to see what effect, if any, this has on weed growth and competition. Also further work is needed to determine which of the components of the medium are effective.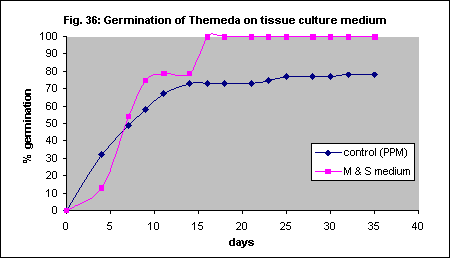 The use of acid treatments is a form of scarification – the objective being to physically damage the seed coat. The seed was soaked for 12 minutes in concentrated hydrochloric acid and rinsed thoroughly before being tested for germinability. Unlike physical scarification this had a severely negative effect on germination (Fig. 37).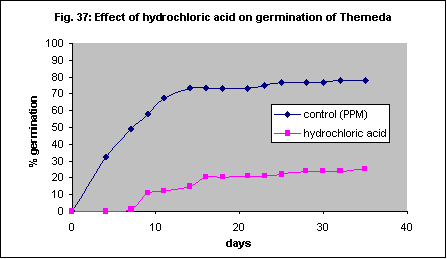 use smoke treatment on fresh seed Austrodanthonia caespitosa, Austrostipa scabra and Joycea pallida to accelerate and increase germination rates. Smoke has little effect on older seed of these species
smoke has no effect on Bothriochloa macra, Ehrharta stipoides, Poa labillardieri (young seed not tested) or Themeda triandra
Trichopel, gibberellic acid and tissue culture medium all enhanced germination of Themeda triandra
boric acid, PPM and potassium nitrate had no significant effects on germination of Themeda triandra
hydrochloric acid had a strongly negative effect on Themeda triandra germination
smoke extracts and Trichopel can easily be incorporated in seed mixes when sowing
gibberellic acid and elements from the tissue culture medium(as well as smoke extracts and Trichopel) could be incorporated into pelletised seed
[ NEXT PAGE ]