Archive document, 2003
New Production Nursery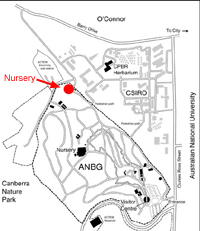 Click to enlarge map
A new energy efficient nursery has recently been opened at the Australian National Botanic Gardens. The new nursery will be used for the production of up to 40,000 plants each year and will be sited on the Gardens' northern perimeter, away from visitor use areas.
The new facility includes numerous design elements to minimise energy use and lead to efficiencies in plant production processes. For instance, the nursery features double skinned polyhouses with retractable roof and side panels and sophisticated controls on the heating and cooling systems to minimise power consumption. Run-off from the site will be treated and re-used for irrigation purposes. Composting toilets in the staff amenities building will further minimise water use.
The nursery replaces the existing 34 year old facility which has permanent structural and efficiency problems. The old nursery site will be redeveloped later as a major visitor attraction.
The proposed nursery was designed by Gutteridge Haskins and Davey Pty Ltd and built by Binutti Constructions Pty Ltd, a Canberra based company.
It was officially opened by Senator Gary Humphries on 18 June 2004
Fact Sheet of information about the new Nursery


Double-skinned polyhouses (above)
and interior (right), showing benches, overhead watering and shade-screens.
[click to enlarge images]

View uphill showing propagation houses (above)
and potting shed and offices (right)
For further information:
Joe McAuliffe
Manager - Development & Infrastructure Unit
AUSTRALIAN NATIONAL BOTANIC GARDENS
Phone (02) 6250 9405 or 0408 400 989
Fax (02) 6250 9599
During construction