Jeanitto Gentilini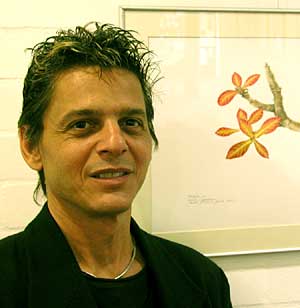 Jeanitto's passion for botany and in particular, the plants of Brazil began upon completion of his Bachelor Degree in Architecture, Landscaping and City Planning - Gama Filho University, Brazil in 1981. Over the last 15-20 years, Jeanitto has continuted his study of landscape architecture and botanical illustration at the University of Brasilia and at the Royal Kew Gardens, London feeding the enthusiasm and commitment he has for the environmental significant plants of Brazil.
Jeanitto's work has extended to landscape architecture projects in Brazil in addition to a number of botanical illustration contributions to research and plant identification publications of Brazil.
The delicate nature of these well adapted plants of the Brazilian Cerrado are captured in Jeanitto's fine drawing and watercolour illustrations in this exhibition Looking at the Cerrado.
Residing in Brazil, Jeanitto has traveled to Australia to exhibit his works at the Australian National Botanic Gardens at the invitation of the Brazilian Embassy.