Prumnopitys ladei
Brown Pine, Mount Spurgeon Black Pine
Prumnopitys ladei (F.M.Bailey) de Laub.
Prumnopitys ladei (common names: Brown Pine, Mount Spurgeon Black Kauri Pine or Mount Spurgeon Black Pine) belongs to the conifer family Podocarpaceae, which are predominantly found in the wet forests of the Southern Hemisphere. Fossil records suggest that the Podocarpaceae was quite prolific during the Cenozoic period, however today the species diversity is not as extensive and mainly confined to the Australasian region.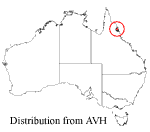 The genus Prumnopitys has only nine extant species one of which, Prumnopitys ladei, is endemic to the Atherton Tablelands. The distribution is rare with plants only found growing on the granite-derived soils of Mount Spurgeon and Mount Lewis at elevations of 1000-1200 m. Consequently, P. ladei has been included in the Rare or Threatened Australian Plants (ROTAP) list (Briggs & Leigh 1988).
The small distribution is in sharp contrast with the adaptability and hardiness of this conifer that shows great horticultural potential. Although found naturally in the wet tropics, it can be grown successfully in sub-tropical and cooler districts, such as Canberra. P. ladei also makes a great indoor plant specimen.
Prumnopitys ladei is a very attractive, slow growing conifer that may eventually reach a height of around 10 m. The glossy green foliage is stiff and fern-like with leaves approximately 2 cm in length and borne in two rows along the horizontal stems. The bark is black and flakey. Male and female cones are borne on separate plants and the fleshy blue seed may occur sporadically throughout the year. It can be propagated easily by cuttings or by seed. Cuttings would be necessary to guarantee either a male or female plant.
Like most rainforest plants, it does best when planted in slightly acidic soil (pH 5-6) that drains well, however they will handle heavier soils if protected and mulched. All soils can be improved through the addition of well-rotted organic matter such as compost prior to planting.
A sheltered site is ideal and the soil will need to be cultivated to a depth slightly deeper than the pot the plant is in before planting. After planting, the soil should be mulched and the plant watered well for the first two weeks, and then as required.
This unusual rare plant will be certain to catch the eye in any garden!
Text by Janice Bodice (2005 Student Botanical Intern)
Derivation of the name: Prumnopitys ladei
Prumnopitys – is a combination of two Greek words prymnos which means hindmost or stern and pitys for pine, which refers to how the resin duct is located behind the midrib of the leaf.
ladei – named after Frank Lade (1868-1948), social reformist and preacher.
References
Bailey, R. & Lake, J. (2001) Gardening with Australian Rainforest Plants, Bloomings Books, Australia.

Briggs, J.D. & J.H. Leigh (1988) Rare or Threatened Australian Plants. Special Publication no.14, Australian National Parks & Wildlife Service, Canberra.

Brodribb, T. & Hill, R. (1999) Turner Review no. 2. Southern Conifers in Time and Space, Australian Journal of Botany, vol. 47, no. 5, pp. 639-696.

Mansfield, D. (1992) Australian Rainforest Plants for Your Garden, Simon & Schuster, Australia.

Wrigley, J. & Fagg, M. (1996) Australian Native Plants, 4th ed., Reed Books, Victoria.