Cryptandra alpina
Alpine Cryptandra
Cryptandra alpina (Alpine Cryptandra) is a little known sub-alpine shrub, and is a member of a genus comprised of about 40 species, all endemic to Australia. Cryptandra alpina belongs to the Rhamnaceae family and exists only in a small region of the Great Western Tiers and Central Plateau in Tasmania, above 1000-3000 m. It is not known to be in commercial production, although other species such as C. buxifolia and C. scortechinii are propagated in nurseries in NSW, Tasmania and Victoria.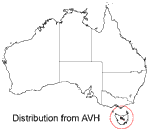 C. alpina lives in sub-alpine mountain heath on poor, rocky soil. It endures high rainfall, large temperature ranges, and severe weather, including hail, snow, sleet and harsh winds. Sometimes all these conditions will occur within a few hours. It grows in communities with genera including Richea, Olearia, Ozothamnus, Epacris, Leptospermum and Baeckea.
Cryptandra alpina is a small, woody, perennial shrub that has a prostrate habit, and will root from the stems at regular intervals where they meet the ground. It will grow to around 20 cm tall and 10-50 cm wide. The leaves are small, tough, and between 2-4 mm long and 0.5 mm wide making them perfectly suited to withstand the harsh climatic conditions. The flowers are small, around 2 mm long, hairy, and creamy-white appearing solitary at the ends of the branches. The flowering period is long, a plant typically bearing flowers between February and June.
Propagation of C. alpina is usually most successful using stem cuttings of fresh, soft growth, although this can be hard to find as the shrub is generally quite woody. It can take full sun or part shade, but needs moist and cool conditions. It can be planted in both pots, and in garden beds and makes a perfect rockery specimen. Growing C. alpina in a pot or container may give you more control over watering and position.
Although Cryptandra alpina is little known, it has a beautiful, subtle habit and long-lasting flowers that make it an aesthetically pleasing plant. It would be especially suited to a cool, moist spot in a rockery, with its foliage falling over rock edges. It also provides a point of interest, representing a small and beautiful part of the Tasmanian wilderness.
Text by Joann Hamilton (2005 Student Botanical Intern)
Derivation of the name: Cryptandra alpina
Cryptandra - from 'cryptos', meaning hidden and 'andros', meaning flower. This name is descriptive of the unusual floral structure, where 5 minute petals curve over to cover the anthers like little hoods. The most obvious, cream parts of the flowers are actually extended lobes of the flower tube.
alpina – relates to this species sub-alpine habitat.
References
Cameron, M. (Ed) (2002) A Guide to Flowers and Plants of Tasmania. Reed New Holland, Sydney.

Elliot, G. (1990) Australian Plants Identified. Hyland House Publishing, Melbourne.

Elliot, W. & Jones, D.L . (1994) Encyclopedia of Australian Plant Suitable for Cultivation, Vol. 3. Lothian Publishing, Port Melbourne.

Morris, D.I. (1991) Cryptandra exilis sp. nov. (Rhamnaceae), a new species from eastern Tasmania. Aspects of Tasmanian Botany: A Tribute to Winifred Curtis', Royal Society of Tasmania, Tasmania.

Reid, J.B, Hill, R.S, Brown, M.J & Hovenden, M.J. (Eds.) (1999) Vegetation of Tasmania, Australian Biological Resources Study.

Wrigley, J.W. & Fagg, M. (2003) Australian Native Plants. Cultivation, Use in Landscaping and Propagation, Reed New Holland, Sydney.